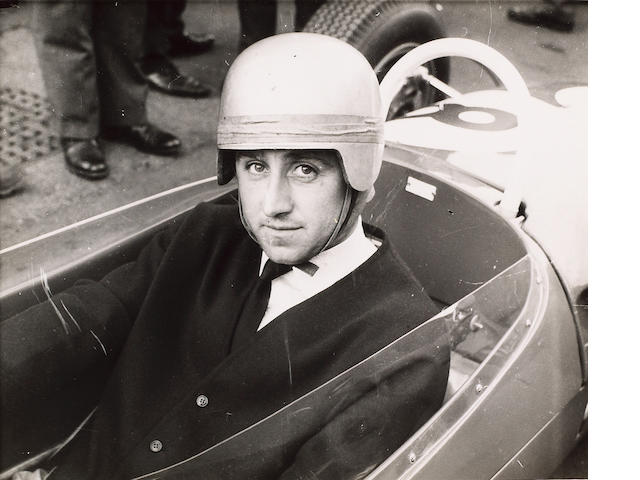 It's rare that I get to combine two of my biggest interests in the same scribble, so I thought I'd indulge myself. This is Roy James AKA 'The Weasel.' Roy was, like so many aspiring racers, big on ability but short on cash. Even in the 1950's and 60's racing was still the most expensive sport on the planet. It wasn't the business that it is today but to go racing at all, let alone have any chance of winning anything, you needed to either be spotted and hired by a factory team or spend your own money. Lots of it. Roy was a silversmith when he wasn't racing cars, stealing other people's cars to sell them on and burgling wealthy people's houses, but he'd never earn enough to pay for competitive cars and top-of-the-range parts and he knew it.
Roy had the talent. Even other racers at the time who became big names, drivers like Mike 'The Bike' Hailwood and three-time F1 World Champion Sir Jackie Stewart, thought he was naturally gifted. He was fast, sensible, brave but not reckless and raced hard without racing dirtily. He had the talent, just not the cash or a big team to provide it. He did have a talent for cat burglary, though, and it was swag that funded his racing. Jewellery, silver, gold, uncut gems, Roy wasn't fussy as long it sold well and it sold well enough that he could buy a car from another triple F1 champion, Sir Jack Brabham.
Fast forward to 1963 and the Great Train Robbery. Roy had a minor role. He was there to provide his driving skill in case a quick getaway was needed, to provide an extra vehicle or two if needed and to help uncouple the mail van from the rest of the train. Nothing violent and nothing heavy, no waving guns or beating up train guards. In the absence of a backer with deep pockets or a team with big plans, Roy saw it as his best shot at getting all the cash he'd need to make it as a Formula One driver. It didn't get him his shot at the big time. It did get him a 30-year jail sentence.
Roy was also supposed to ehlp clean up the gang's hideout at Leatherslade Farm. He didn't do a very good job. When police found the hideout they also found fingerprints (one of them was Roy's), gloves (which con often be turned inside-out and dusted for prints), wrappers used for holding bundles of notes together and all sorts of other goodies. It was only a matter of time before the gang would be doing some time of their own. Plenty of it. After most of the gang had been arrested Roy was about ready to turn himself in. At least he would have turned himself in if the police hadn't turned up and dragged him off to jail.
Most of them got very long sentences. Roy's was one of the longest. He drew five years for conspiracy and twenty five for mail robbery. The robbery itself netted £2.6 million but Roy's share was only one-sixteenth of that, around £162,5000 (although that bought a lot more in 1963). Sounds good at first, until you think about thirty years in a maximum-security prison. Roy ended up serving only 12 years before being paroled in August, 1975.
When he finally got out Roy, incredibly, still thought he had a chance of becoming a big-name racing driver. He contacted an old rival (double World Champion Graham Hill) and current Formula One supremo Bernie Ecclestone. Both of them told him, as kindly as possible, that racing had moved on so much in twelve years that if he'd ever had a chance he certainly didn't any more. Ecclestone threw him the occasional bone. Having been a silversmith Roy was perfectly up to designing trophies. It was just that those trophies would always be presented to other people. Roy had a few more races, making up the numbers in uncompetitive cars, but the dream was dead. He ended up back inside after shooting his father-in-law and pistol-whipping his wife and in 1993 drew another six years. He finally died in 1997, not long after his release.